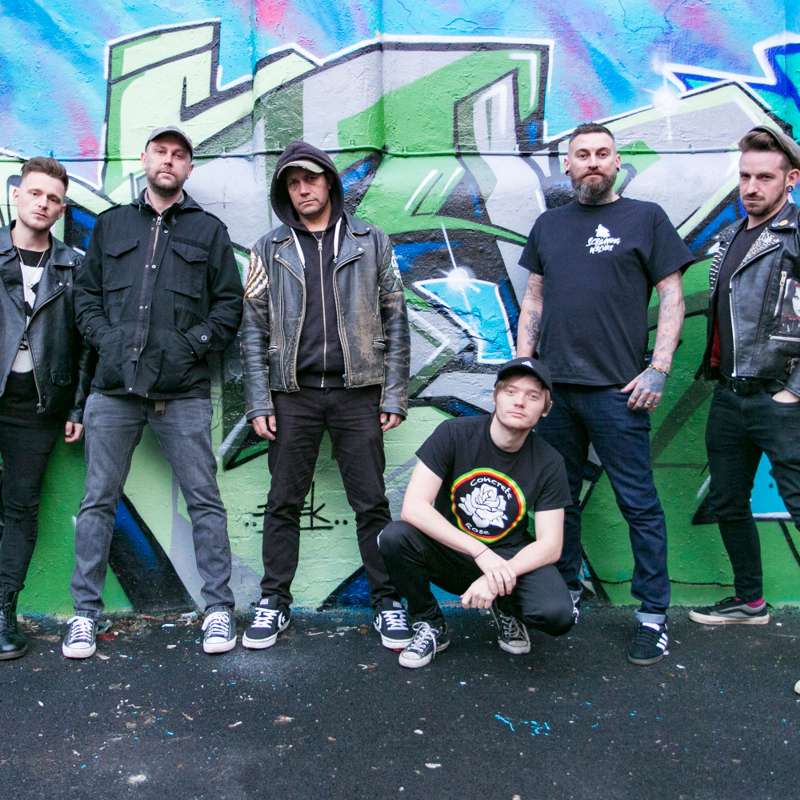 Mark Southgate presents:
FEROCIOUS DOG
Ferocious Dog + Tony Wright (Terrorvision) + Davey Malone
SOLD OUT
Entry Requirements: 16+
Buy Tickets
THIS EVENT IS A RESCHEDULED DATE FROM 4TH APRIL 2020 / 4TH DEC 2020
---
Ferocious Dog
They've been hailed as "a representation of our gut feeling, savage and merciless" and at the same time, called "folk in the grand tradition of it being the peoples sound."
Ferocious Dog, however are all those things.
More than a band, they are a family. "To listen to the Ferocious Dog as it snarls and growls at the world is to show responsibility" said a Louder Than War review of their brilliant, recently released and Fake News And Propaganda album, but this is an outfit that shows compassion too.
And that, in a world where the lines of truth are blurred by the rich, powerful and corrupt, is priceless.
"Ferocious dog are a very socially conscious band and their music and lyrics are designed not only to make you smile and sing along but also to make you feel something." – Folk-Metal.NL.
A band that does drives for foodbanks – not for headlines, but because it was the right thing to do – a band that welcomes Hunt Sabs and conservationists Sea Shepherd to their shows, but a band where none of that really matters.
No, here the feeling is important. Ferocious Dog is the group where fans are tattooed in the shop belonging to the lead singer, Ken Bonsall, where the violinist and band leader, Dan Booth prints the posters. They can wow a punk festival one minute, a folk festival the next – and fit right in anywhere.
With Bonsall and Booth and Carter combining and John Leonard playing just about everything with strings, while the rhythm section of Alex Smith and John Alexander bring the power and energy, you have a whole greater than the sum of its parts.
"9/10 Earning a reputation as the UK's most exciting Folk Punk band for good reason" – Vive Le Rock
It is more than social commentary too. "My politics are my politics," explains Bonsall and "we'll sing those songs about what we believe, but whatever side of the political divide you are from, we want you to feel welcome at an FD show.
"We always say you're never alone at one of our gigs and that is the most important thing to us."
Now, they head out on the latest run of shows, with Bonsall promising some surprises. "There's a reason we've called this run more Fake News" he smiled. "We have songs on this album that we haven't played yet and we really want to, stuff like "Yellow Feather" about a Hell Hound that is no longer with us…."
Those Hell Hounds are their fans. Except, they're not. They are as much part of the band as the six on stage. And they'll hit those stages at the dates below. They've been reckoned as the "best live band in Britain." Go and see why.
"This is serious social commentary with superb tunes and Dan Booth's sublime violin takes the listener on a rollercoaster of emotion" – W.D Emsley
---
PLUS SUPPORT
TBC
Line Up
We are 'Ferocious Dog' from Warsop, Nottinghamshire.
Started as a three piece in the late 80's by Ken Bonsall (Lead Vocals/Guitar) and Dan Booth (Fiddle) and Ian Wagstaff playing Bodran (Irish Drum). Shortly after the band was joined by Dave Drury (Bass), Paul Newbury (Drums), Jimmy Carrol (Guitar/Banjo/Penny Whistle).
The band split and reformed a couple of times in the early days, then following the tragic death of Paul Newbury in 2005, they were joined by Brad Drury (Dave Drury's Son) (Drums). Later they were joined by Kyle Peters (Guitar) and finally one of the showmen of the band Ellis Waring (Mandolin/Guitar) joined in early 2011.
The newer lineup lifted the band to a new level in 2011 with new recordings and some success at festivals giving the band some excellent exposure. With more festivals lined up for 2012 the future is looking very bright. With their success has come new friends one of which is front man and singer 'Mark Chadwick' from 'The Levellers' who the band have had the honour to play with twice recently.
When the band are not out on the road they can be often found out and about in their home of Warsop and the bands true home is 'The Black Market Venue' also of Warsop and part owned by Dave Drury.
Looking towards the future...
Tony Wright (Terrorvision)