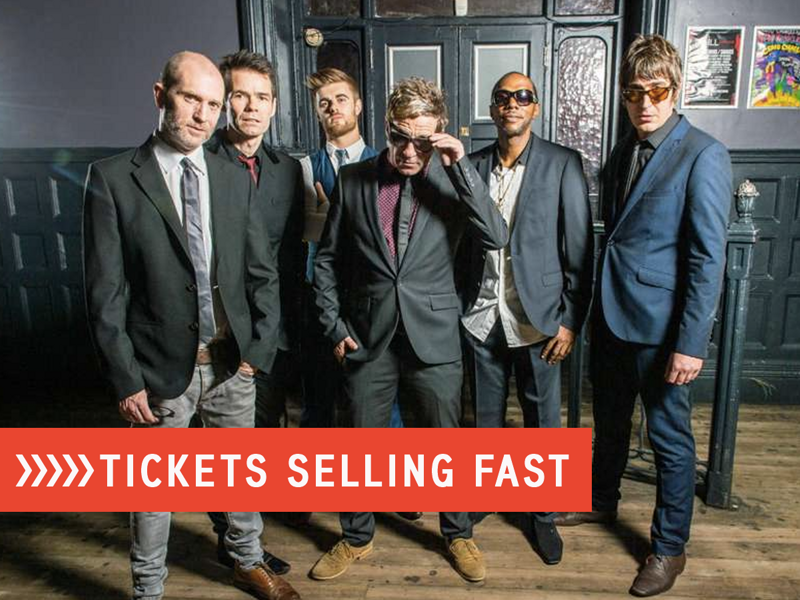 The Forum presents:
Dub Pistols
+ Makola
£20
Entry Requirements: 16+
Buy Tickets
One of the hardest working bands in showbusiness, Barry Ashworth and his motley crew have added a much-needed swagger to the UK dance scene in recent years and new album 'Crazy Diamonds' finds the band at their uncontrollable, bass-driven best.
A rampant mix of dub, reggae, ska, punk, breaks, beats and drum 'n' bass, the album is a full-on dub-quaking extravaganza, built for big fields and summer sound systems. It also happens to feature some of the biggest names in the game including Dancehall dons Beenie Man and Cutty Ranks, reggae singer Earl Sixteen, hip-hop act Too Many T's, seminal MCs Navigator and the Ragga Twins, and long-time collaborator Lindy Layton. Tracks like killer new single 'Crazy Diamonds' (ft. Too Many T's) or summer-anthem-in-making, 'Rise Up' (ft. Earl Sixteen and Navigator), prove that the Pistols are one of the best around at rockin' the joint.
This is futuristic skank, complete with blazing horns, brazen brass and epic drums and bass. Proudly working class as a band, the Dub Pistols have been tearing up venues and festivals throughout their career. Inspired by the Second Summer of Love, the band were founded by ubiquitous Londoner Barry Ashworth in 1996 and have been at the forefront of beats culture ever since.Known for their rhythmical blend of bass, turntables and horns, their genre-mashing abilities has seen them work with some of their biggest heroes including The Specials, Horace Andy, Madness and Gregory Isaacs.
They've also seen band members come and go, not to mention squander thousands on various capers that have now become legendary and that has taken them from the brink of multi-million-dollar international success to the edge of destruction and back again. "The band's reputation as an explosive live act has seen them turn into super-tight festival regulars, with the Dub Pistols headlining some of the biggest festivals in Europe including Glastonbury, Bestival and Beat-Herder. Their bass-driven live machine has seen them win numerous plaudits along the way and recent live guests have included vocalists Rodney P, The Specials'Terry Hall and Neville Staple, rap wünderkid T.K., Sugardaddy horn-blower Tim Hutton & scratch maestro, DJ Stix."The Dub Pistols have also turned their hand to the world of remixing and have remixed the likes of Ian Brown, Moby, Limp Bizkit, Korn and Bono and worked with hiphop legend Busta Rhymes.
The band's music has been used by Playstation and major Hollywood films.Ashworth is also a much sought-after DJ which has won him many fans around the globe over the last 15 years. Known for his eclectic sets, he was one of the first resident DJs at the influential club, Fabric, in London and has performed high-octane primetime sets internationally in such countries as Australia, Singapore, Serbia, Dubai, Thailand, Germany, Croatia, Italy and France, to name but a few. Additionally, he is founder of Westway Records, a London breakbeat and hip-hop label that's put out releases from many currently-emerging artists from the UK dance music underground.
He is currently working on a warts 'n' all documentary about the band's career; a mix of archive and new footage that charts the Dub Pistols' strange journey from chancers to hot property to epic f**k-ups to unlikely triumph.
Line Up
Website Facebook Twitter Myspace Soundcloud
Sometimes you have to go through the mill to realise why you were put on this Earth. So it is with the Dub Pistols, the reggae-breaks-jungle mashup, the gangster-swaggering festival stalwarts whose rollercoaster story reads like a rock'n'roll cautionary tale on a grand scale. When big beat ruled the clubs the Pistols were snapped up for $1.5m by legendary Interscope magnate Jimmy Iovine and anointed Geffen Records' priority act for America. But Geffen put their album out the week that 9/11 happened, so the Dub Pistols ended up broke and label-less instead of US superstars. This is how it happens. They get knocked down — but they get back up.
Over an 18-year career the Dub Pistols have worked with heroes like The Specials, Horace Andy, Madness and Gregory Isaacs. They've burned through different members and hundreds of thousands of pounds on assorted capers and hedonism, and done — in the words of dapper frontman and prime mover Barry Ashworth, a ducking, diving South London graduate of the Summer of Love generation who started a band because he loved Happy Mondays and never looked back — "more fucking drugs than we knew what to do with."
It should have been a recipe for oblivion. "We've got a saying in this band," says Barry: "Whatever can possibly go wrong, will go wrong." Instead it was the making of the Dub Pistols. The band that started out in the mid-90s with Barry DJ'ing while musicians jammed over the top ("a right fucking racket," he laughs) has metamorphosed into a mighty reggaematic bass-driven live machine, a super-tight festival regular that keeps winning over new fans at Glastonbury, Bestival, Beat-Herder and across Europe.
And that hard-won discipline gets its showcase in their new, sixth and best album, 'Return Of The Pistoleros', released on Rob Da Bank's much-loved Sunday Best imprint. From the the Ennio-Morricone-goes-drum'n'bass title track to the armagideon horns and implacable bass march on 'Real Gangsters' — with guest MC Neville Staple of The Specials — via the pure skank of 'Sticky Situation' and collaborations including MC Earl 16, Lindy Layton, Jamaican stars Chezidek and main vocalist Seanie Tee AKA Dark Horizon, it's a full-on dub-quaking anthemic extravaganza built for big fields and summer sound systems.
Key to the new set-up is a mix of old and new Dub Pistols including Barry's "go-to man" Tim Hutton who has co-written for Groove Armada, Ian Brown and the new Prodigy album. Tim slots in for departed Dub Pistol Jason O'Bryan who "ran off with a Djakartan princess." And the album's title carries its own message.
"There's always been a bit of the outlaw in classic reggae," explains Barry, "a bit of spaghetti western, Mexican feel. That's what we feel like ourselves. We don't have to try to fit in any more. We're not going to be anyone's flavour of the month. We've got our crowd and we're getting new people all the time, from the ska dads to the festival kids. It's all word of mouth, no marketing, just from our live show. So I thought yeah, Pistoleros. Outlaws."
An avid Liverpool FC fan, Barry always wanted to be a footballer when he was growing up in South London among a family of transplanted Scousers. He went to Carshalton Boys School, lived on the same street as future superstar DJ Carl Cox and — like thousands of likely lads before him — started out on a road that led from The Clash and The Specials to reggae to jazz-funk and the inevitable fateful visit to Ibiza in 1987. "I took a pill and never kicked a ball again," he smiles.
A growing love of DJ Alfredo's Balearic mixes at Amnesia led Barry into promoting events, DJ'ing and a taste for hard partying. At one point he found himself in a three-day rave that Flowered Up had thrown in a mansion in South London. "The most insane party I'd ever been to," he remembers. "The police had to carry us out in the end."
Barry never intended to start a band. He began to make singles purely for DJs — big beat stompers like 'There's Gonna Be A Riot' and 'Cyclone' — which led to an album, which led to touring, which somehow led them to Jimmy Iovine, who said their 'Six Milion Ways To Live' album was the best he'd heard in 15 years. Signed to Geffen, the Dub Pistols' taste for excess became legendary even amongst the dance royalty of the day. They'd take limousines across two states to visit a strip joint, spend money like water and do "so much drugs it was ridiculous."
They visited Mexico to record a track for the road movie 'Y Tu Mamá También' with Molotov, the biggest-selling band in South American history. "We lived there for a month and everything was mañana, mañana, peyote and mescaline — it was fucking nuts," Barry recalls. "We were out of our minds." Figuring that nobody would hear this tune anyway, he knocked out a filthy sex rhyme with plenty of graphic detail. So their biggest song in South America consists of Barry yelling 'here comes the mayo!'"
After the Geffen deal fell apart, Barry came home thinking he had £150,000 in the bank. But they'd spent so crazily that he was £16,000 overdrawn. "I was shaking," he admits. "I nearly shit meself when I heard." He took a deep breath, paid everyone off with whatever money he could find, and started again from nothing.
It turned out to be a good move. After the cash-crazy dance world of the 90s cratered, it left behind a real crowd who had learned to love an outdoor mega-festival — a new natural audience for the Dub Pistols. They spent the Noughties building that crowd. Now they're masters of their own fate.
Since then they've worked with the artist Gavin Turk and created music for a Banksy documentary. Ben Allen, the rising star of British street art, told Barry that he created his whole collection while listening to the Dub Pistols. They've had Bono and The Edge at their shows and Howard Marks doing their sleeve notes. They cut a track with Busta Rhymes called 'The One' for the soundtrack to 'Blade II'. And they were partly responsible for getting Barry's heroes The Specials back together. Terry Hall and Lynval Golding shared a stage for the first time in decades with the Dub Pistols at Bestival. "That was a real high point," says Barry, "and it was a bit of a catalyst for the reunion. I had tears in my eyes when they got back together."
Now the Dub Pistols are one of the few remaining working class bands who carry the flame of reggae-driven sound system music, the secret rhythm of Britain from ska and rocksteady through Soul II Soul to grime and dubstep and beyond. "I always thought that being in a band wasn't for people like me," Barry admits. "It was more a middle-class thing. It was the Mondays that changed that. We're part of street music, working class music. That's never going to go away."
Recently the reformed Happy Mondays tweeted that the Dub Pistols were the best live band they'd seen in years. And Shaun Ryder's crew will feature in a documentary that Barry is putting together, a mix of archive and new footage that charts the Dub Pistols' strange journey from chancers to hot property to epic fuck-ups to unlikely triumph. It'll be called 'What The Fuck Can Possibly Go Wrong? The History of the Dub Pistols'.
"It's about everything that's ever happened to us, all the ups and downs, the victories and disasters," says Barry. "I call us the most successful unsuccessful band of all time — and the hardest-working lazy bastards in the world. Sometimes I can't fucking believe we're here, but we've survived and we're doing better than ever.
"You know what? It's just like they say," he grins. "If you're doing something you love, you never work a day in your life."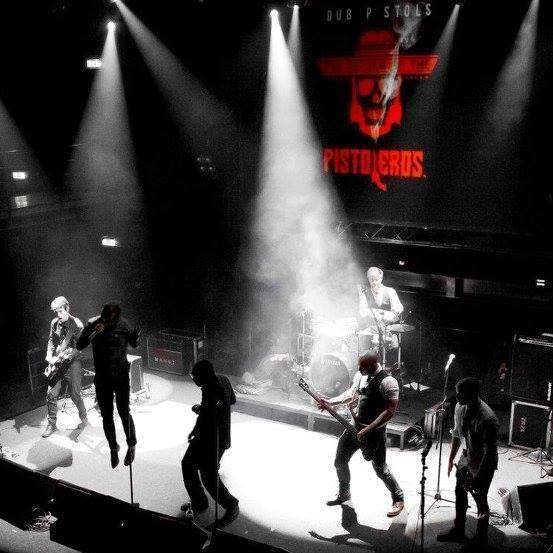 Rising duo Makola have their roots in Finland and Ghana but their sound, an irrepressible explosion of hip-hop and afrobeat, could only ever have been forged in London. Meeting on an off chance in a pub in Camden, North London, rapper K Mensah and producer Pete.H bonded over their taste of music and a desire to make waves in the music industry. After experimenting with different styles and genres Makola stumbled upon a sound after K Mensah revisited the music he grew up on, Ghanaian High-Life. Upon hearing the likes of Daddy Lumba, Osibisa, E.T Mensah, A.B Crentsil and Ebo Taylor, Pete took it upon himself to pay homage the only way he knew how, laying down a beat. K Mensah heard it a week later and Makola's first single was spawned, This Is London, an exhilarating blend of culture and consciousness delivered with unabashed honesty.
Apple Music's Beats 1 radio show host DJ Julie Adenuga jumped on it, featuring This is London and hailing it as one of her "tracks of the summer". The track quickly became one of Apple Music UK's A-List tracks of the week. This is London encapsulated the feeling of summer 2016 and soon made it on UK mainstream radio. Radio 1's influential Phil Taggart showcased it and so did Mista Jam, culminating in Makola becoming BBC Introducing's act of the week. Subsequently This is London was playlisted by BBC Radio 1xtra and played by Trevor Nelson, DJ Target and the like, meanwhile Europe was feeling the vibe and major stations like Radio Fritz in Germany and Couleur3 in Switzerland played it all summer.
Second single Black Man Statues saw Makola incorporate a Grimier London sound, again embodying their surroundings and producing a piece of socio-political commentary in a tongue-in-cheek manor. Black Man Statues found pride and place on Spotify's Grime Shutdown playlist and also featured on Radio 1 with Huw Stephens, also as Mista Jam's 'Inbox Fresh' track of the week. Leading up to the official release Makola played their debut gig to a packed out Koko, which will go down in folklore amongst those who were there to witness the explosion of energy and adrenaline.
BLACK MAN STATUES OFFICIAL VIDEO
THIS IS LONDON PACK SHOT VID
MAKOLA LIVE AND BEHIND THE SCENES AT KOKO 25 NOV 16"