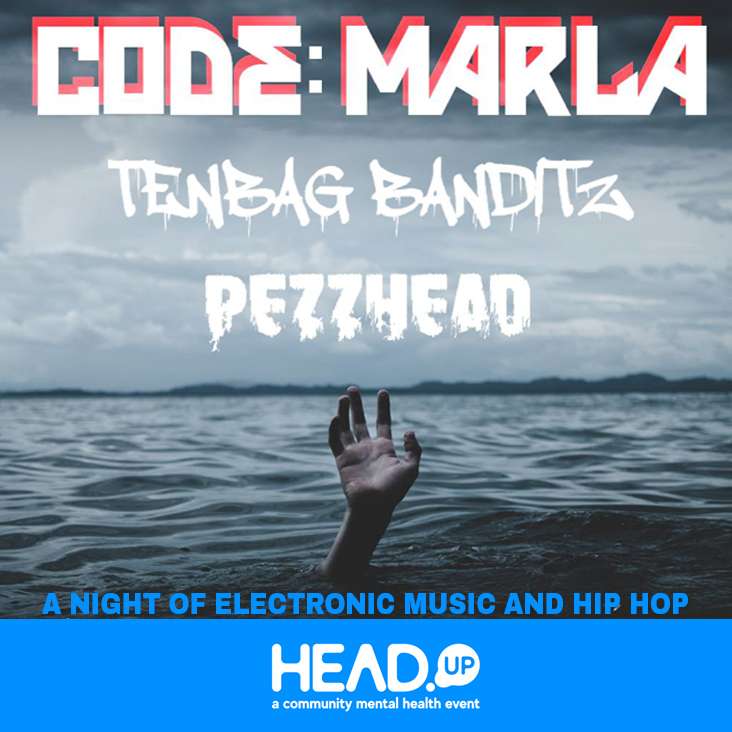 The Forum presents:
HEAD UP @ The Sussex Arms
Code: Marla + Tenbag Banditz + Pezzhead
FREE
Entry Requirements: 18+
ANNOUNCEMENT:
We're proud to confirm the first show taking place on December 8th will be at The Sussex Arms, featuring Code: Marla, Tenbag banditz and Pezzhead. Holding up the Electronica and Hip Hop side of the night with our friend CJ Thorpe, local heroes Code:Marla will be shaking the basement into the night! All shows will be free to enter, however this show will be ticketed as there is a 50 person capacity in The Basement downstairs. Tickets released soon so keep your eyes peeled. We will also be sharing our donation pages this week, so stay tuned.
That's one announcement and one musical genre down... more to come soon! 💙
---
About Head Up
"Based upon a the five year anniversary of the untimely passing of our good friend Jonny Smallwood, Tom Diamond, Molly Peers and I have decided to create a townwide event to raise awareness for mental health issues. Jonny took his own life in December 2013 after rather silently suffering from mental health issues, something that shocked the core of our friendship group. Since then, countless other men (and women) have succumb to the same heartbreaking fate.
This event is set up not only to honour those good people who've taken their lives, but to also help others who would be in the same situation to not give up and communicate about their issues. Community spirit will come to the aid of those needed help, something we'd like to kick start and keep afloat. We ourselves do not claim to be experts in helping deal with mental health, rather we want to be able to raise money for those who are and spread the message of inclusion, that there is a light at the end of even the darkest tunnel and that people discussing the taboo issues around mental health can help save lives.
Much more about the events being held and fundraising initiatives will be forthcoming over the next few weeks and months as we head towards the date of Saturday 8th December. The eve of the 5th anniversary of Jonny's passing." Matt Lucas
Line Up
C:M are back with a new line up and a new EP showing off their new direction. Now featuring The Impossible Man on vocals, C:M are bringing you a mash up of hip-hop, trap, dubstep and rock, held together with their own brand or deep bass wobbles. http://www.codemarla.com