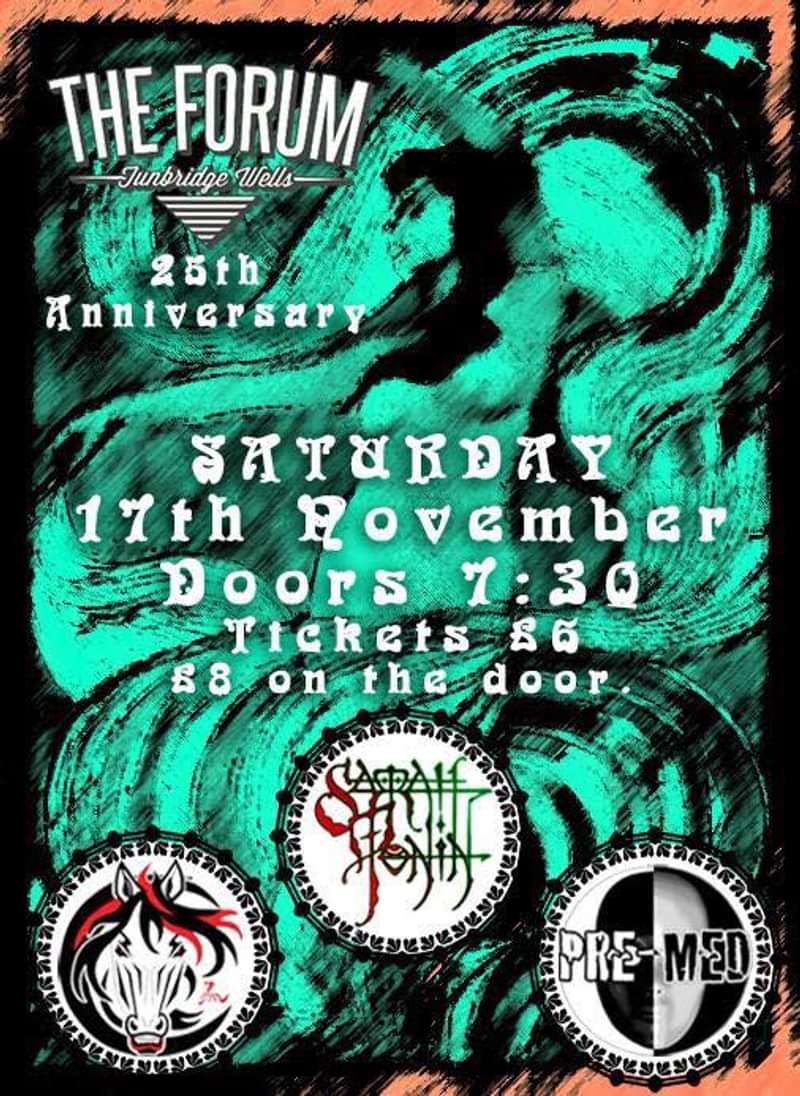 The Forum presents:
Sarah Tonin
+ Pre-Med + Wild Horse
£6 ADV / £8 ON THE DOOR
Entry Requirements: 16+
You are cordially invited to a superb night of rock and R&B, psychedelic and space rock to celebrate The Forum's 25th Anniversary with three fantastic bands.
Wild Horse from Brighton who will blow you away, Pre-Med who will take you to a different dimension and Sarah Tonin to get all your juices going all at once.
Line Up
Sarah Tonin are an alternative rock band from south east England who are on a musical quest of discovery and self exploration. They indulge in psychedelic and progressive rock with infectious material and fresh hooks, with improvisation and funk an integral aspect of the sound. The music fuses these styles and transcends into an unheard and exciting new sound with songs for a new era. Front man of the group, Chris Parris, brings together influences from psychedelia and space rock, giving funk driven grooves a darker edge. With lyrics exploring topics of the human condition and the mysteries and surrealness of the universe, the arrangements of the songs often take the listeners to wonderful and unexpected places. Parris and Marcus Chapman are the creative driving force behind the band, recording and producing their debut album 'Spinning Chaos'. Chapman has been playing piano most of his life and is an experienced music producer. He crafts magical sounds bringing out different colours in various sections of their songs. He has mean organ tones, beautiful piano parts and his hypnotic, progressive synth solos leave audiences breathless. The band's humongous rhythm section is Joey Lyon on drums and Bouncy Piper on bass who has an amazing natural talent for plucking, slapping and laying down a solid groove. Their immense, jaw dropping sound gets the crowd moving every time at festival stages and venues across the south. Sarah Tonin are currently working on new material for their second studio album and are psyched about the future ahead having already confirmed a gig at the spring Equinox at Stonehenge on 19th March 2018, as well as slots as Small World, Summer of Love Festival and Green Gathering for this year. After performing for nearly 2000 people last August the band are certainly ready for larger audiences. https://www.sarah-tonin.com/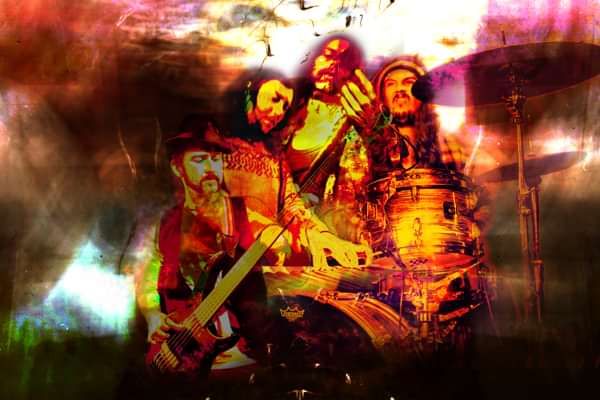 PRE-MED are a high-energy rock band, with strong leanings towards Space, Progressive and Psychedelic rock, usually with a dark edge.... The music played live is 100% original, written by ex frontman Danny Faulkner and his brother Martin. Significant influences are Hawkwind, Pink Floyd and Motorhead. The band began in 2004 and has released 3 studio albums "Medication Time", "The Truth About Us" and in 2013 "Einstein's Day Off". There have been numerous personnel changes, the PRE-MED line-up for 2016 and beyond is: Dave Saunders Bass, Ashman Robinson Guitar, Simon O'Connell Keys, Becky "Boosh" Summers Lead Singer, Rick Burtonshaw Drums, all are from Kent and East Sussex. PRE-MED have appeared at festivals such as Sonic Rock Solstice, Hastrek and Kozfest and are on again at SRS2016 in June - they have also played venues such as Dublin Castle Camden, The Carlisle and Flairz Venue Bar in Hastings. Visit www.premedmusic.com for PRE-MED 2016 soundcloud and youtube.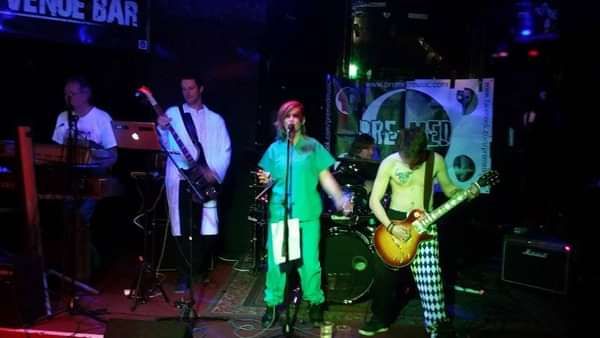 "As both a musician and a radio presenter with a heavy emphasis on Indie Bands, Wild Horse is going to go far. Very far. I believe they are indeed leading "The Second British Invasion." DJ Toby Chicago, Kingfisher Radio
Wild Horse were formed in April 2013 by two brothers, Henry & Jack Baldwin & their school friend, Ed "Barking" Barnes. The combination of the three instantly worked forming a talented and skilled band with massive stage presence & ability. They have a shared love of the best in R&B taking their influences from the greats such as, The Rolling Stones, Eric Clapton, Hendrix, The Who, Neil Young etc. but they are no "sound alike", they have a clear & original Wild Horse Rock sound
They are renowned for an exciting, powerful stage show having honed their craft from an early age at venues like, The Islington – London, The Fiddlers Elbow – London, The Gunners – London, The Bedford Balham – London, Dublin Castle Camden, Bar 42 – Worthing, The Brunswick – Brighton, Guns & Smoke – Barnet, The Haunt – Brighton, Hastings Music Festival, Red Roar Festival – Gravesend, plus many many more venues & events.
Wild Horse were recognised by becoming 2014 "Rock The House" nominees and 2016 finalists. In early 2015 Wild Horse signed with a New York record company who released original Wild Horse tracks on mixed EP's leading to the release of their first album, "It's Begun", in January 2016, entirely made up of original material. Now working with UK based Studio 3 records, Wild Horse have recorded a further 18 original tracks during 2017 forming three EP's, "On The Run", "It's Only Rejection" & "Timeless Dancing", the tracks just keep coming. The reviews of their tracks have been brilliant and extensively played on over 24 radio stations worldwide.
With around 30 original tracks recorded & released, their debut album released, three 6 track EP's released and many more original rock tracks already being recorded for release during 2018, there is no stopping their creativity & drive. Wild Horse are a band like no other for all the right reasons. Their love of the music & playing to live audiences is an experience not to be missed….