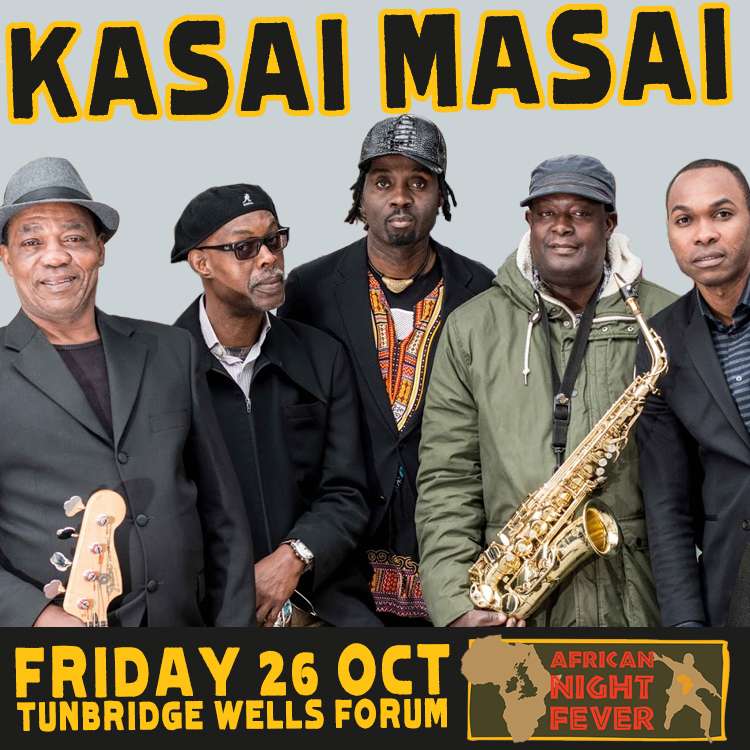 African Night Fever presents:
African Night Fever : Kasai Masai
£10 ADV / £12.50 OTD
Entry Requirements: 16+
Buy Tickets
African Night Fever returns to the Forum for another night of sunshine music dance party with Kasai Masai as part of their new album launch.
KASAI MASAI
Kasai Masai known for their unique style of blending traditional sounds of equatorial African Village with a distinctive urban edge, where fast paced Soukous and Rumba meld with Congolese folkloric traditions to create infectious dance music.
The souring voice of band leader and lead singer Nickens Koso accompanied with mesmerising guitar rhythms leaves no room for standing still with Kasai Masai on stage. This is truly a night of happy African dance party.
Kasai Masai's music reflects their journey from the rural to urban, performing music which has been passed on from generation to generation combined with their own contemporary style.
Written in Swahili, Lingala and Kimongo, Kasai Masai's lyrics portray the cultural diversity of Congo where more than four hundred languages are spoken.
Kasai Masai's original compositions have moved beyond traditional expectations of Congolese music with their galloping rhythms, strong melodies, passionate beats, swinging guitars, moving saxophone.