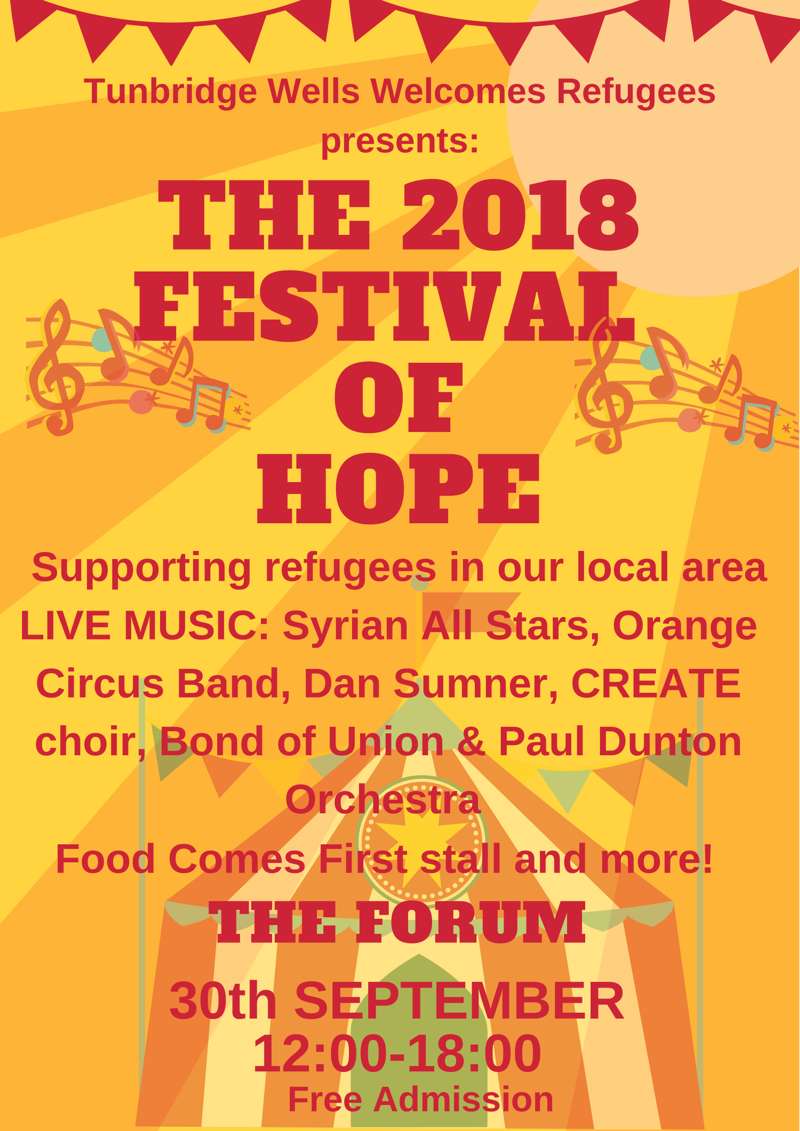 The Forum presents:
Festival of Hope
Festival of Hope Tunbridge Wells
FREE - (Donations on the day welcome)
Entry Requirements: EVERYONE WELCOME
Hosted by Tunbridge Wells Welcomes Refugees, the Festival Of Hope will see a variety of musical performances, delicious home-made food stalls and entertainment for children, all throughout the day. The event aims to encourage a warm and welcoming environment for members of the community, both old and new. Community art, face painting, raffle with donations from local businesses, as well as information stalls from community groups.
Provisional timings: Noon Doors open 1215 Opening speech 1230 - 1300 CREATE choir 1315 - 1345 Bond of Union 1400 - 1430 Paul Dunton Orchestra 1445 - 1515 Orange Circus Band 1530 - 1545 Phill from Best Foot Music 1545 - 1615 Raffle draw 1615 - 1630 Closing speech 1645 - 1745 Syrian All Stars 1800 Close
Just Giving Page information from TWWR: We strive to make this an accessible day that is open to the public for free. We are therefore relying on donations from local people and businesses to ensure the success of the event! Any donation would be hugely appreciated.
All profits from the day will go towards funding the work of the Tunbridge Wells Welcomes Refugees charity ( reg no. 1175601). TWWR is run by a group of local volunteers who work with Tunbridge Wells Borough Council and other organisations to help support families who have arrived in the UK via the Government's Vulnerable Persons Relocation Scheme. They have had to flee their homes and make a new life in the UK. We help with everyday tasks, teaching English, registering for school/college, shopping, transport, medical appointments, bank accounts, housing problems and much more! https://www.justgiving.com/crowdfunding/twfestivalofhope
Line Up
Syrian All Stars headline! Open at noon with Create choir, Bond of Union, Paul Dunton Orchestra, The Orange Circus Band, Syrian All Stars.