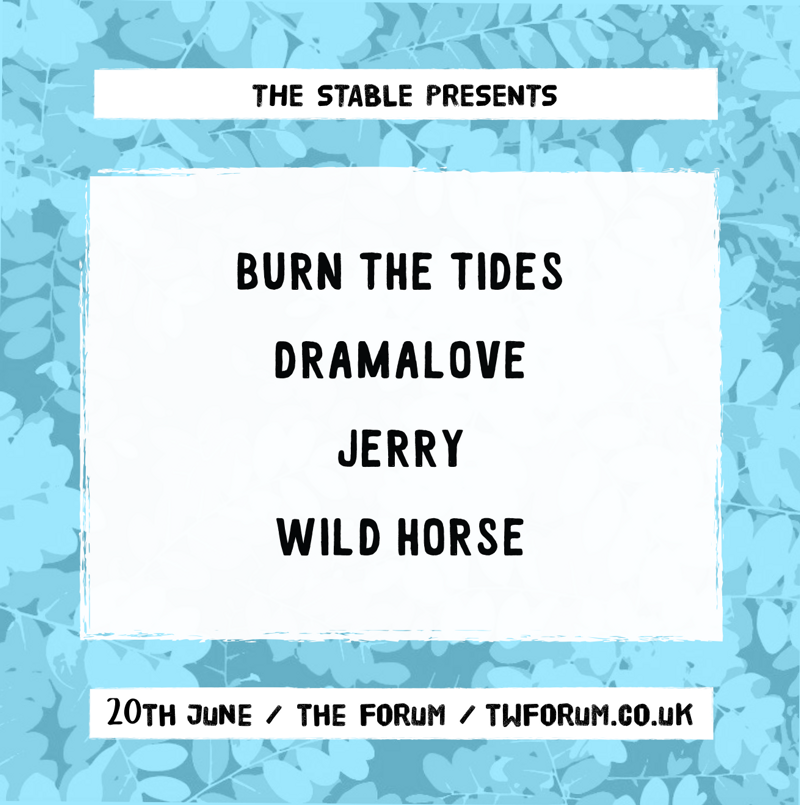 The Forum presents:
THE STABLE
Jerry + DRAMALOVE + Wild Horse + Burn The Tides
£6
Entry Requirements: 16+
Buy Tickets
Line Up
**Hailing from south-east in Canterbury, Kent, exuberant alt-rock three piece Dramalove mix guitar based rock with electronic angularity and darkly poetic lyricism...
Diego and Riccardo Soncin (twins) and Dimitri Merati are Italians but they share a deep passion for modern rock and international soundscapes. Their single "Play With You" has been broadcasted on the Introducing Mixtape by Tom Robinson on BBC Radio 6, and they played on a live session for their local BBC Radio in Kent on January 2018, during which the presenter Jon Holmes called them "superb". They will be playing at the 2018 edition of the Great Alt Escape Festival in Brighton on the 17th of May, after the incredible response to their hometown shows at The Ballroom and The Penny Theatre in Canterbury and the Booking Hall in Dover. Their U.K. debut Ep "How To Wear A Broken Heart" is available on all main digital stores, leaded by the latest single "Funeral". **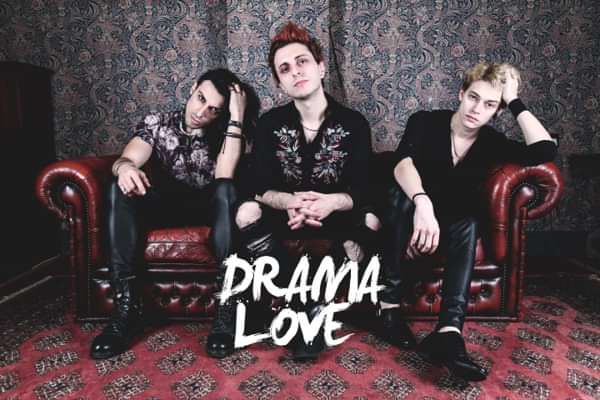 "As both a musician and a radio presenter with a heavy emphasis on Indie Bands, Wild Horse is going to go far. Very far. I believe they are indeed leading "The Second British Invasion." DJ Toby Chicago, Kingfisher Radio
Wild Horse were formed in April 2013 by two brothers, Henry & Jack Baldwin & their school friend, Ed "Barking" Barnes. The combination of the three instantly worked forming a talented and skilled band with massive stage presence & ability. They have a shared love of the best in R&B taking their influences from the greats such as, The Rolling Stones, Eric Clapton, Hendrix, The Who, Neil Young etc. but they are no "sound alike", they have a clear & original Wild Horse Rock sound
They are renowned for an exciting, powerful stage show having honed their craft from an early age at venues like, The Islington – London, The Fiddlers Elbow – London, The Gunners – London, The Bedford Balham – London, Dublin Castle Camden, Bar 42 – Worthing, The Brunswick – Brighton, Guns & Smoke – Barnet, The Haunt – Brighton, Hastings Music Festival, Red Roar Festival – Gravesend, plus many many more venues & events.
Wild Horse were recognised by becoming 2014 "Rock The House" nominees and 2016 finalists. In early 2015 Wild Horse signed with a New York record company who released original Wild Horse tracks on mixed EP's leading to the release of their first album, "It's Begun", in January 2016, entirely made up of original material. Now working with UK based Studio 3 records, Wild Horse have recorded a further 18 original tracks during 2017 forming three EP's, "On The Run", "It's Only Rejection" & "Timeless Dancing", the tracks just keep coming. The reviews of their tracks have been brilliant and extensively played on over 24 radio stations worldwide.
With around 30 original tracks recorded & released, their debut album released, three 6 track EP's released and many more original rock tracks already being recorded for release during 2018, there is no stopping their creativity & drive. Wild Horse are a band like no other for all the right reasons. Their love of the music & playing to live audiences is an experience not to be missed….