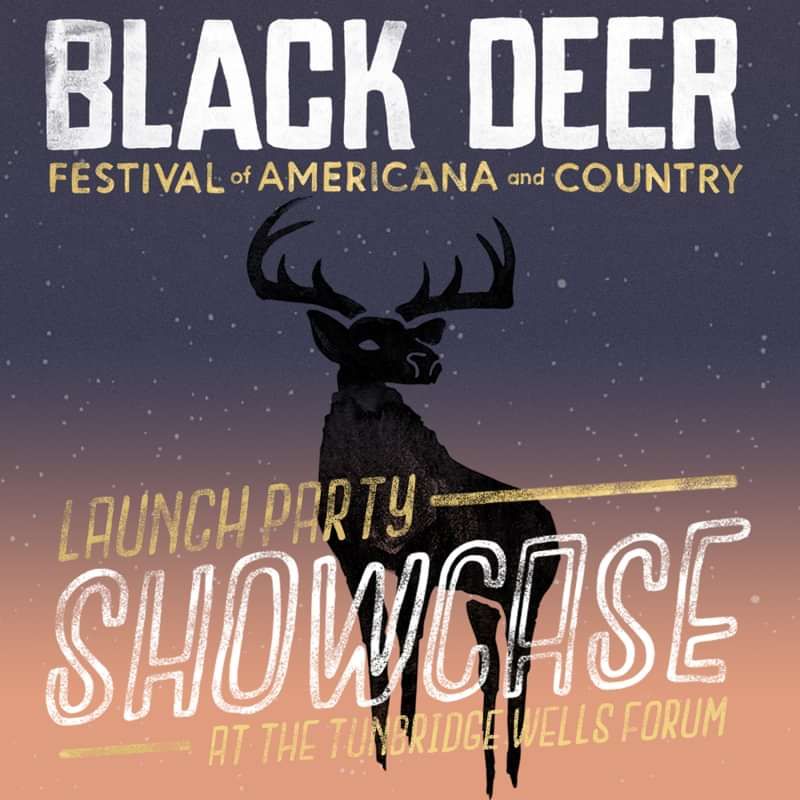 Black Deer Festival presents:
Black Deer : Launch Party Showcase
The Paul Dunton Orchestra + Lt Leek + Kate Ellis + Mike Wilton + The Lew Thomas Band
FREE
Entry Requirements: 16+
We're giving some of the UK's freshest Americana & Country talent a chance to shine, on stage, under the bright lights of The Black Deer Festival.
Launched in partnership with SupaJam, the Tunbridge Wells Forum and the Americana Music Association UK our mission was to discover five of the best emerging Americana and country music stars and provide them with a unique platform to showcase their talent to the world on – a stage slot at the inaugural Black Deer Festival from 22nd – 24th June 2018.
With over 150 amazing entries, our judges David Court and the students of SupaJam school, Jason Dormon and his team at the fantastic Tunbridge Wells Forum, Black Deer promotors Gill Tee and Debs Shilling and music booker Bev Burton, sifted through submissions to shortlist just 15, before a final 6 were chosen. That's right, we added another stage slot to welcome a standout sixth act.
It's time to reveal the winners of the competition and to let you know you will have your first chance to see them live (and for FREE) as we begin Black Deer Festival celebrations early in a one-night special preview to be held at the Tunbridge Wells Forum on 7th June 2018.
And the winners are…
The Paul Dunton Orchestra
Local Tunbridge Wells based singer-songwriter Paul Dunton leads his crossover orchestra to conjure an atmospheric fusion of folk, pop and country with a classical twist. Performing Paul's own compositions plus a varied selection of unique arrangements from other artists the orchestra varies from a compact minimum 7-piece to a substantial 20 strong line up comprised of multiple violins and cellos, flute, bass, guitar and percussion.
Lt Leek
This Kent based three-piece with Matt Pound on lead vocals and guitar, Immie Mason on violin, mandolin and vocals, and Tom Jennings on guitar and banjo are an outstanding acoustic alternative country act. They impressed the judges recording tracks specifically for the competition and have a wonderful ability for bittersweet songwriting complimented with a unique blend of vocal harmonies.
The Lew Thomas Band
This 5-piece country-rock band from Derbyshire are set to electrify the stage with their brand of guitar-twang and honky-tonk. Check out the band's latest release, a 4-track EP called 'Laid Out On The Floor' and you'll want to be front row then they go live.
Mike Wilton
While on a short sabbatical from his band The Standard Lamps, who have toured with the likes of The Who and The Bluetones, Mike has put together and released his debut solo album via Pledge Music. Hailing from East Sussex, he's quite the local hero so we have since discovered, and we're super excited to hear his own blend of blues influences with hints of traditional country and some acoustic touches thrown in for good measure this June.
Kate Ellis
Born in Louisiana, raised in New York and now based in London, Kate's southern country-folk roots come from her father's side. Since the release of her debut album 'Carve Me Out' her genuine talent is audible, with emotionally truthful, intimate and heartfelt music set to add a wonderful dimension to the Black Deer festival experience.
"I'm thrilled to be playing at the Black Deer festival alongside some of the best Americana and country-folk artists around. Black Deer is a sign of how important Americana and Country is becoming to the UK music scene and it's absolutely wonderful to be part of it."
See them all play live at The Forum, Royal Tunbridge Wells Date: Thursday 7th June 2018 Time: 6:30 PM FREE Entry Requirements: 16+
OUR STANDOUT ARTIST, RECEIVING A COVETED SLOT ON STAGE AT BLACK DEER IS…..
Laura Oakes
Inspiration from the likes of Dolly Parton, David Gates and the Dixie Chicks may have seemed a million miles away from Liverpool lass Laura but her path was primed. A visit to the iconic Grand Ole Opry in Nashville at the age of 18 proved to be a life-changing experience and her dream of writing and singing country music was realised. Laura is an accomplished performer and her name will be familiar to fans of the UK country scene. Since hearing Laura has been busy writing a host of new songs in Nashville earlier this year, we couldn't resist showcasing them at Black Deer this summer…
---
BLACK DEER FESTIVAL
Black Deer is on a mission to bring the real Americana & Country music, and way of life, to the UK – expressed through a unique music festival.
Black Deer is a festival born from passion, and built from experience – thanks to its founders, who are no strangers to the festival and events scene, having produced and directed some of the UK's most loved featuring legendary Americana artists like Neil Young, The Eagles and Bob Dylan. And for whom, Americana and country music has become a lifelong love affair.
It is this compelling blend of passion, experience and love, that has shaped a festival vision unrelenting in its quest for staying true – true to the communities, cultures, storytellers and memories that make up this most authentic of worlds.
At Black Deer then, you'll find the best of a bygone rural era, made relevant, right now. With wholesome food & drink, artisan wares and custom-built motorcycles, just some of the things – in addition to the music – paying homage to the cultural heritage of America.
But more so, Black Deer is a community. A community accessible to all. A community providing opportunities to all (such as the deserving students of Supajam who have their own stage). And importantly, a community inspiring to all (the motivation behind the Young Folk part of the festival).
Black Deer is a celebration of a way of life that is both timely and timeless.
Line Up
A unique cross-over orchestra providing a rousing and captivating fusion of alternative and pop with a classical twist.
"Paul is an exceptionally talented songwriter and musician" Joan Armatrading
Performing both songs and instrumental pieces, Paul Dunton and his orchestra offer something different, combining Paul's own original instrumental pieces and songs as well as a selection of uniquely arranged standards from a wide range of artists such as Nina Simone, The Rolling Stones, Elbow, Pink Floyd, The Beetles, ELO and Massive Attack.
Members of The Paul Dunton Orchestra include some of the UK's leading string players, many of which play for the likes of The London Philharmonic Orchestra and The Hallé Orchestra. The line-up of up to 8 violins, 4 cellos, guitar, flute, bass and percussion accompanies Paul on vocals and piano, joined by one or more of his female vocalists, Charlotte Andrew, Sarah Sheldrake and Poppy Alice. Depending on the size of the venue and budget, the orchestra can perform as a 12-piece up to its full complement of 24 musicians.
With national reviews hailing the breathtaking live sound and sheer originality and atmosphere of his works, the orchestra regularly performs concerts, festivals and private events throughout the UK and internationally, including an 8-state tour of the USA which culminated in a spectacular roof-top performance on top of the New York Strand Hotel.
Increased attention and success has led to a feature on the orchestra on Radio 2 by Joan Armatrading with interviews and airplay of one of Paul's songs, 'Don't Forget'. The feature led to Paul supporting Joan Armatrading as a part of her UK tour and is now supporting her for a second time (November 2014).
"So, what is musicality? It's achieving a solid equilibrium between the importance of lyricism, catchy tunes and the passion driving both. Paul Dunton has that in spades" Play Music Magazine
Hear the orchestra in action on Youtube
Sirens EP Promo video Dark On Fire – Turin Brakes Extinct - original instrumental Home – Original song Teardrop – Massive Attack
Find us on: Facebook Soundcloud Twitter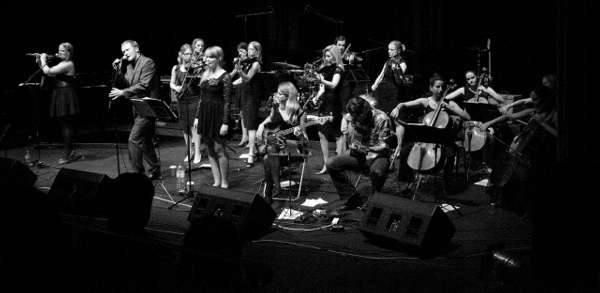 KATE IS AN AMERICANA SINGER/SONGWRITER. BORN IN LOUISIANA, RAISED IN NEW YORK, BASED IN LONDON.
Playing in festivals and concerts, from NY to London to Paris, Kate's timeless music reflects a love of classic singer/songwriters, from Gram Parsons and Gillian Welch, to Mary Chapin Carpenter, Leonard Cohen and Nanci Griffith.
Kate's southern country-folk roots come from her father who was an important early musical influence – he once played guitar with Hank Williams on the famous Lousiana Hayride, where Elvis and Johnny Cash started out.
Kate's emotional and seductive vocals take you into a world of private beauty, reflection and feelings. The music is always intimate and evocative – you listen and want to be there.
"I think there can be something incredibly beautiful about being connected to a strong emotion even if it's a really sad one - often especially if it's a really sad one," Kate says.
A journalist for the Observer said: "Kate Ellis writes hauntingly beautiful songs and has an amazing voice, I'm a fan!"
"Carve Me Out", the debut album from Kate Ellis, was released in June 2017.
---
**"Hits you straight in the heart. One of those artists that on first listen, you just know you're going to love." TALK RADIO
"The rising star of country who has a brilliant folk style." BELLES & GALS
"A gorgeous album with soul, heart, passion, loving and boundless country/folk style...back-to-back wonderful, unbelievably beautiful, engrossing, considered and worthy of unstinting praise." FATEA MAGAZINE
"She clearly has a huge future ahead of her." BBC RADIO MERSEYSIDE
"Sensitively weaves strands of country and folk throughout in a velvety smooth voice. An album of great warmth and feeling that just makes you press repeat. Definitely worthy of recognition." – NO DEPRESSION
*"Kate's contemporary country-folk classic sound, and a voice best described as a cross between Emmylou Harris and Suzanne Vega, make her debut album eagerly anticipated." *THE MEDIA EYE
"Our #TrackOfTheDay is the wonderful new single by Kate Ellis." LAUREL CANYON MUSIC
"Single of the Week. A tribute to some of music's greats – Mary Chapin Carpenter and Leonard Cohen, to name a few." SOMETHIN' COUNTRY
"A wonderful new record." AMAZING RADIO
"She's been likened to Alison Krauss, Mary Chapin Carpenter, Beth Nielsen Chapman and Gillian Welch. We couldn't agree more and think that fans of Sierra Hull and Patty Loveless will also dig Ellis' sound [and] her brilliant song Ones You Love The Most." SONGWRITING MAGAZINE
"A powerful song and a beautiful performance." AMERICANA UK
"An absolutely beautiful album. There's a truthful emotional pull and a great eloquence to all ten tracks. Very, very impressive stuff. One of my favourite releases so far in 2017." CELTIC MUSIC RADIO
"Captures your imagination and smothers you with its beauty. All of the songs showcase a fantastic talent." THE ROCKING MAGPIE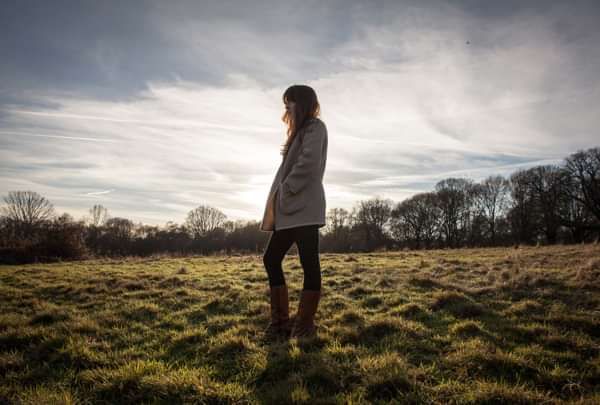 Mike Wilton is best known as being the front man of local lot 'The Standard Lamps'. Their big break came when they supported Wilko Johnson Band at The Forum.
Following this, 'The Lamps' (as they are affectionately known), have supported The Who on their Who Hits 50 arena tour in 2014. Reviewing them alongside The Who at Leeds, Mojo Magazine acclaimed The Standard Lamps as "Tight and bluesy", adding that they, "At times look and sound uncannily like The Who of 40 years ago". The Standard Lamps also supported The Bluetones at various 20th anniversary shows.