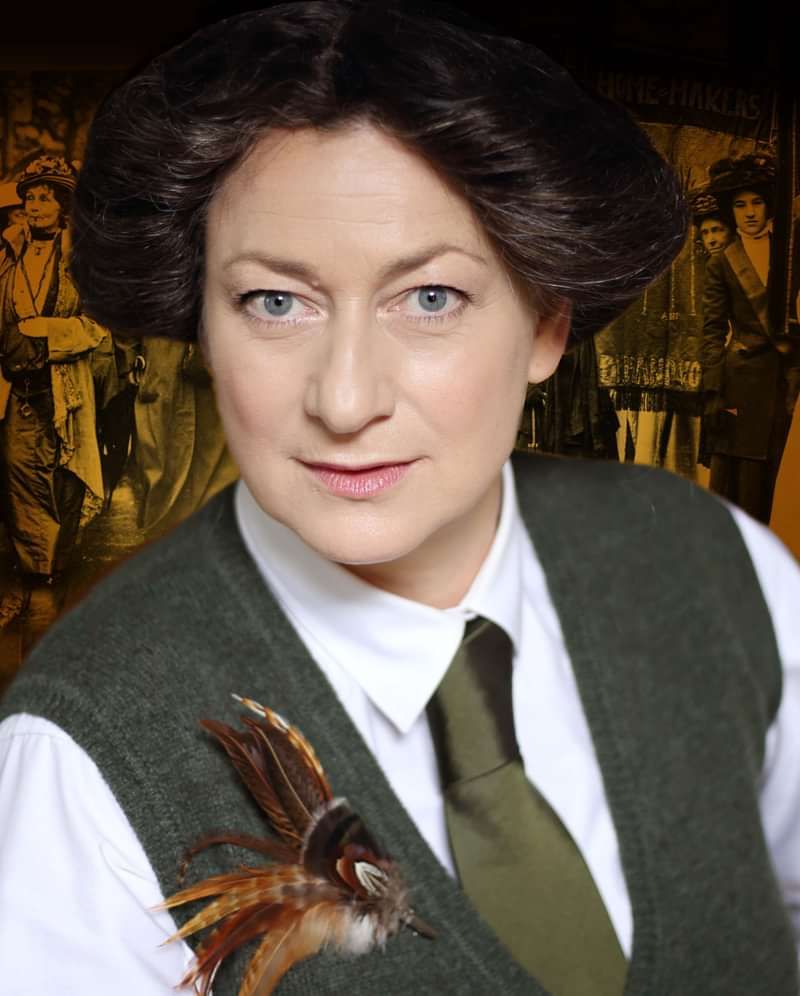 Highlights Rural Touring Scheme presents:
Theatre : Ethel Smyth - Grasp The Nettle
£10 ADV or £11 on the door
Entry Requirements: 16+
Ethel Smyth: Grasp the Nettle
Doors open at 7pm, come and meet author of 'Disgusted Ladies' Anne Carwardine before the play starts at 8pm. There will be an interval, estimated finish time 10pm.
The story of Ethel Smyth, composer, writer and suffragette, told in her own words and compositions, in a flowing fusion of drama and music.  Ethel was the first woman composer to be performed at the Royal Opera House, Covent Garden and is now acclaimed as "the missing link" between Purcell and Britten.
Performed by contralto Lucy Stevens and pianist Elizabeth Marcus.
To celebrate the 100th anniversary of the Representation of the People Act 1918,
the decisive step in the political emancipation of women in the UK.
Ethel's exploits and passions interwoven with her songs, the story of her greatest opera, 'The Wreckers' and her battle for an equal voice. Illuminated with anecdotes from her confidants, her letters and her own writing. "which is peculiarly beautiful and all of it rippling with life".
Ethel Smyth was the living embodiment
of the courage and passion with which Victorian women challenged the "male machine".  As an activist, she was imprisoned in Holloway with Mrs Pankhurst.  As a composer, she wrote the anthem for the suffrage movement 'The March of the Women' as well as composing 6 operas and many sonata's, quartets and song cycles.
Meet Ethel, who smashed windows and defied boundaries to grasp her dreams.
"Another absolute triumph!  Your combined musical skills are tremendous…an extraordinary insight into the life and music of a truly remarkable woman.  It was magical, moving and totally engrossing." Nick Barnes, Chairman & Programme Secretary, The Arts Society, South Cambs
"…a very powerful performance, fascinating character portrayed, and also the sensitive and skilled piano accompaniment." Acorn Theatre Trustee (Cornwall)
"We were enraptured by the show. What a brilliant new play. What an outstanding actress!  I felt like I had met Ethel.  I would love to see it all again." Audience member (London)
---
A new play with music performed by Lucy Stevens with musical accompaniment. Following her hugely successful productions Kathleen Ferrier Whattalife! and Shakespeare In Song which are currently touring the UK, professional contralto and actress, Lucy Stevens is developing a new show for 2018 -  Ethel Smyth: Grasp the Nettle to coincide with and celebrate the 100th anniversary of the Representation of the People Act 1918, the decisive step in the political emancipation of women in the UK getting the vote.  
---
Lucy Stevens as Ethel Smyth
Lucy has followed her passion for developing and performing new work including Wellspring Songs by Sam Paechter (written for Lucy) for the Opera North New Composers' Forum; Silver Swan by Paul Clark for Clod Ensemble in the Turbine Hall at Tate Modern and at the Linbury Studio, Royal Opera House; Arcane by Paul Clark for Opera Circus at the Lilian Baylis Studio, Sadler's Wells; Unborn in America by Luke Styles at the Vaults Festival 2015; Melanie Wilson's Opera for the Unknown Woman; Phenomenal People, a live performance and digital garden for Fuel; Amelia and the Mapmaker (Amelia Earhart) for 19th Step and Behind Closed Doors: Shakespeare Reimagined (Helena's Spirit) at the Old Vic. At BAC Tom Morris directed Lucy in Newsnight The Opera (Kate Adie) by Tansy Davies. Richard Thomas's Jerry Springer the Opera (Andrea) and Tourette's Diva (Daughter Diva). Currently touring Kathleen Ferrier Whattalife! (Kathleen Ferrier) and Shakespeare in Song.
Elizabeth Marcus
Born in Brighton and studied at the Guildhall School. While at college she won the Raymond Russell Competition for harpsichord, the Dove Memorial Prize for top Graduate of that year and the Carl Meyer Memorial Prize for outstanding service to the School.   Elizabeth has performed at the Wigmore Hall, Purcell Room, Queen Elizabeth Hall, the Floral Hall at the Royal Opera House Covent Garden and St. John Smith Square and appeared in concert with Alastair Miles, Janice Watson, Sally Matthews, Robert Hayward and Claire Rutter. She has broadcast on BBC Radio 3 and 4, Classic FM, BBC 2 TV, Channel 4 and French National Radio.   She has been official accompanist for the Peter Pears, the Richard Tauber and the Kathleen Ferrier competitions and for masterclasses with Ileana Kotrubas, Guisseppe di Stefano and Sherrill Milnes. She is much in demand as a vocal coach and works regularly with singers such as Alastair Miles, Patricia Bardon and Sir Willard White.   Elizabeth is a founder member of the Tzigane Piano Trio, which performs regularly all over the UK and has released a disc of the complete music for Piano Trio by Cecile Chaminade. She has also released a disc of South American songs with the tenor Luciano Botelho. Elizabeth is music director of 'Kathleen Ferrier Whattalife!' which has a busy touring schedule in the UK. She has recently been made a Fellow of Guildhall School of Music and Drama.