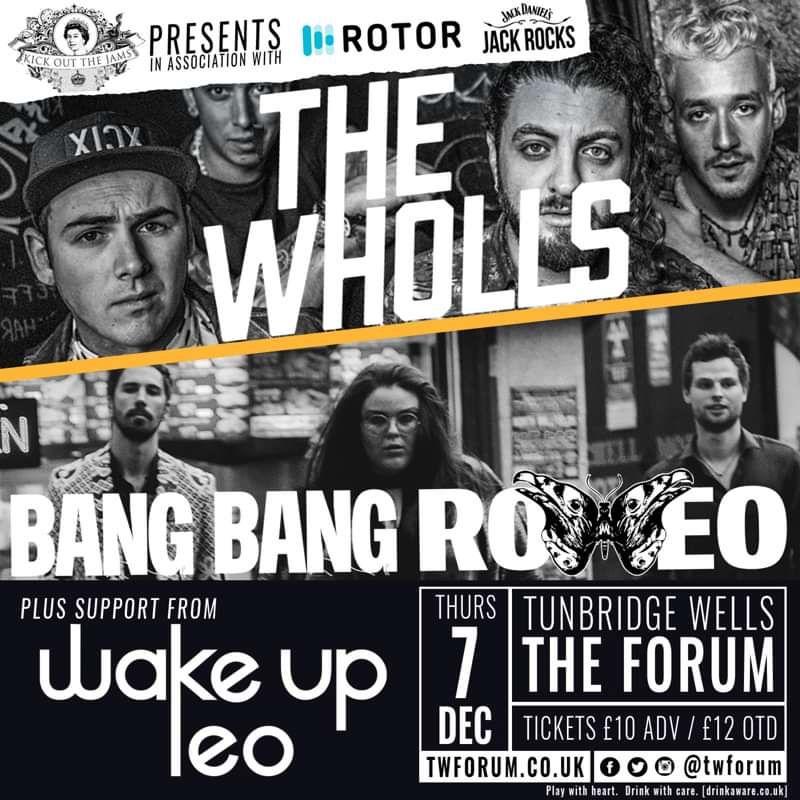 The Forum presents:
Kick Out The Jams
The Wholls + BANG BANG ROMEO + Wake Up Leo
£10 ADV / £12 OTD
Entry Requirements: 16+
A new monthly indie club night at Tunbridge Wells Forum.
Concessions for students and MU card holders on the door.
Line Up
The Wholls are a four piece guitar group that cite themselves as a UK Urban Rock 'n' Roll band. The guys have a commanding presence on stage and a committed passion for music.
The Wholls say if you were to come and watch a gig… 'expect a sound that is fresh and exciting played by real mates, who are telling real stories, and having a blast. (And a hangover…)'
They state their musical style as… 'Chili Peppers, meets Dizzy, meets 2015'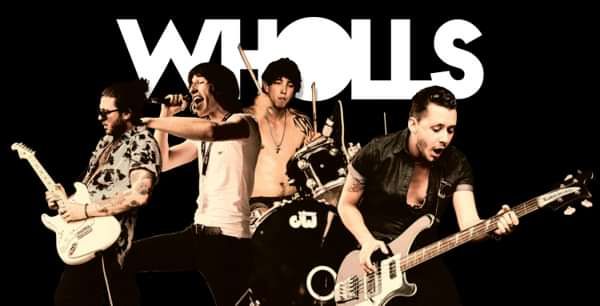 Atmospheric soundscapes punctuated with powerful, soulful vocal hooks full see BANG BANG ROMEO take a listener on a dark and emotive journey that has seen them labelled a "Hard edged Fleetwood Mac". In the words of Cole Salewicz from Artrocker.tv "we were completely blown away by their expertly executed powerhouse pop sounds: pointedly driving bass-lines, ripping riffs and vocals that soar over mountaintops."
Recent BBC Radio 1 airplay by Huw Stephens and selection as his 'Pick of the week' has seen the band labelled as "The best in new music" and "one of the most exciting new bands in the country."
Further Airplay across all BBC local stations in the U.K as part of the "Best of BBC introducing" segment of The Mark Forrest Show demonstrates the excitement the band has created within the BBC introducing network.
Drawing on a wide range influences from the likes of Jefferson Airplane and The Mamas and Papas to The Smashing Pumpkins and Fleetwood Mac gives BANG BANG ROMEO a unique 60's vibe, powerful songs with all the mood of a film score and a modern twist.
Early 2014 has seen BANG BANG ROMEO working with internationally acclaimed producer Chris Kimsey (Rolling Stones, INXS). Describing the band as "Like a Tarantino soundtrack", Chris and the band have collaborated on new E.P "We Were Born", released to critical acclaim in March 2014.
The follow up single Revolver, recorded at Parr Street Studios Liverpool with Tony Platt (AC/DC), has already received national BBC airplay in advance of its September release.
Recent live session feature by Exposed Magazine showcasing BANG BANG ROMEO's enigmatic live performance along with mention's in the likes of Vanity Fair magazine have contributed to the bands ever growing reputation as a must-see live act.
Live dates in 2014 including The Leadmill and The Lexington, and a main stage slot at Galtres Parklands Festival alongside The Human League and The Levellers, along with further dates supporting Toploader, The Moons and Dexters along with further apperances at Tramlines, Doncaster Live and Wigan Live festivals, coupled with prestigious dates at Manchester City F.C's Etihad Stadium and for the Tour de France Grand Départ Sheffield, make it an exciting time for the band.
Shows including support slots with Dexters and Night Engine as well as shows with This Feeling and Tramlines Festival have seen Bang Bang Romeo building a reputation as a powerful live force to be reckoned with. Alongside airplay of "Cemetery (an ode to the IRS)" on BBC Radio 6 via Tom Robinson and his BBC Introducing mixtape, and further support from a dozen airing's on Christian Carlisle's BBC introducing's Radio Sheffield show, the band have had airplay across every BBC local station in England and The Channel Islands.
Having previously worked alongside Clive Martin (Stereophonics/ Sting) and Ian Dench (EMF/ Florence And The Machine), and collaborating with Andy Treacey (Faithless/Groove Amada) on the bands 'Adore Me' E.P, Bang Bang Romeo have continued to develop their own brand of Alternative 60's inspired Indie Rock with a melodic yet gritty and malevolent style. A collaboration with internationally acclaimed DJ Wally Lopez on previous E.P title track 'Adore Me', released through EMI in 2013 as part of Wally's "Follow Me" album, saw chart success throughout Europe.
"Big Songs in the mould of The National and Talking Heads" - This Feeling
"Great song and amazing voice" - EMI Spain
E.P Tracks:
Download link:
https://itunes.apple.com/us/album/we-were-born-single/id845292463
Reviews:
http://www.artrocker.tv/news/article/something-about-south-london-13#FRe1sktAb5fwAPTr.99
http://backseatmafia.com/2014/03/11/introducing-bang-bang-romeo/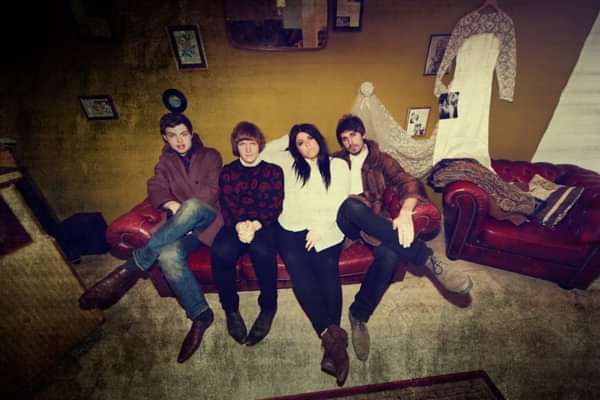 Wake Up Leo is the brainchild of singer-songwriter Leo Ulph and is best described as 'Brooding Alternative-Indie' – If there is such a thing.
Having been raised on a diet of great American songwriters, the tracks come with massive choruses and satire on modern life and love.
It sounds a touch like; The Cure merging with Arcade Fire, then covering The Killers….or something similar.
Now joined by; 'Mercurial Keyboardsmith' – Erim Ahmet,' Guitar Supremo' – Russell Jemmett, 'Bass Wonder' – Paul Barnard and 'Stick Wizard' – Tom Mitchell, the band perform regularly around London and the South East.
The show offers something quite a bit different. It's accessible, but designed to make you think.
We should all do more of that.