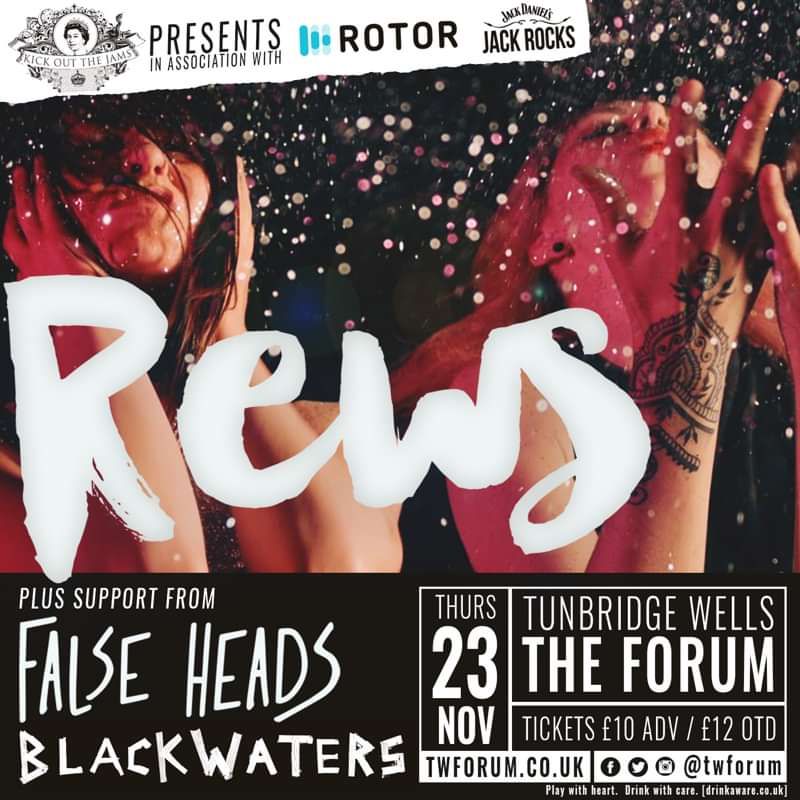 Kick Out The Jams (TW) presents:
Kick Out The Jams
REWS + False Heads + Blackwaters
£10 ADV / £10 OTD
Entry Requirements: 16+
A new monthly indie club night at Tunbridge Wells Forum.
Concessions for students and MU card holders on the door.
Line Up
REWS… are a Huw Stephens' "Tip Of The Week" on Radio 1 with their new single - "MISS YOU IN THE DARK". Also played on Radio 6 with Tom Robinson and all 38 BBC Introducing shows! Tom said "They return in excellent form with another guitar driven, spiky, pop anthem."
REWS… are the sassy, high energy, pop rock duo consisting of songstress Shauna Tohill (NI) and beat-maker Collette Williams (Wales). Together they are creating a genuine buzz on the UK/Irish music scene following the release of their four recent singles. "Can You Feel It", "Death Yawn", "Shake Shake" and now the chart banging "Miss You In The Dark". Across the summer Shauna & Collette have performed at a string of high profile festival performances including Glastonbury, Green Man & Kendal Calling to name but three.
REWS… are lining themselves up to break through in 2017. Booked for Brighton's GREAT ESCAPE '16, Belfast's OUTPUT '16, Wrexham's FOCUS WALES '16, Manchester's OFF THE RECORD '16, Cardiff's SWN FESTIVAL '16 and Hamburg's REEPERBAHN '16 - The industry is waking up and listening to their great single releases. They will tour in the spring of 2017.
---
MILESTONES
RADIO - New single just out "Miss You In The Dark" Huw Stephens "Pick of the Week" and played on all 38 local BBC Introducing shows as well as Radio 1 and Radio 6. Also played on Radio 6 Steve Lemaq on Drive Time, Radio X as John Kennedy's EXPOSURE HOT ONE and John O'Connell's Shock of the New on Daytime. Also Team Rock, Kerrang Radio and even plays on Inter FM which is Japanese National Radio!
INTERNATIONAL SHOWCASES – Invited to perform at Brighton's The Great Escape '16, Belfast's Output ' 16, Wrexham's Focus Wales '16, Manchester's Off The Record '16, Cardiff's Swn Festival and Hamburg's Reeperbahn '16 showcase festivals.
FESTIVALS – In 2016 REWS played Glastonbury, GoldCoast-OceanFest, Chagstock, Kendal Calling, Beautiful Days, Green Man to name just a few.
MANAGEMENT – Managed by Jawdropper Management (IE)
RECORD OF THE DAY – The last three recent singles "Miss You In The Dark", "Can You Feel It?" & "Death Yawn" have featured on industry magazine Record Of The Day. In fact Record Of The Day liked "Miss You In The Dark" so much they listed it twice!
PRESS QUOTES "They return in excellent form with another guitar driven, spiky, pop anthem." - Tom Robinson Radio 6 On Hot Press Magazine's list of "Most Likely To Make An Impact in 2016" - Hot Press Magazine 'Glam-rock guitar indie pop at its best' - Nialler9 'Hooks that give you goose-bumps you could hang your hat off, adore this' - Hot Press Magazine 'This is good, this is really fucking good' - CeolCaint.com 'Infectious uplifting songs overflowing with punchy choruses and hooks' - Bestofmusicandfilm.com 'Hook filled power-pop, a real ear-worm' - EncoreNI.com 'Deadly new tune, like Breeders or Throwing Muses, if you're not instantly foot-tapping then you must be clinically dead' - Joe Donnelly TXFM "Rews are all about conjuring up choruses that are ready to ride the airwaves." - Hot Press Magazine 'One of Ireland's most promising tunesmiths' - Hot Press Magazine 'Track of the Day ' - BBC Radio Ulster 'Ultra high energy infectious alt rock' - YourHandsMusic Bouncy & Brilliant' - ** Indieminded**
---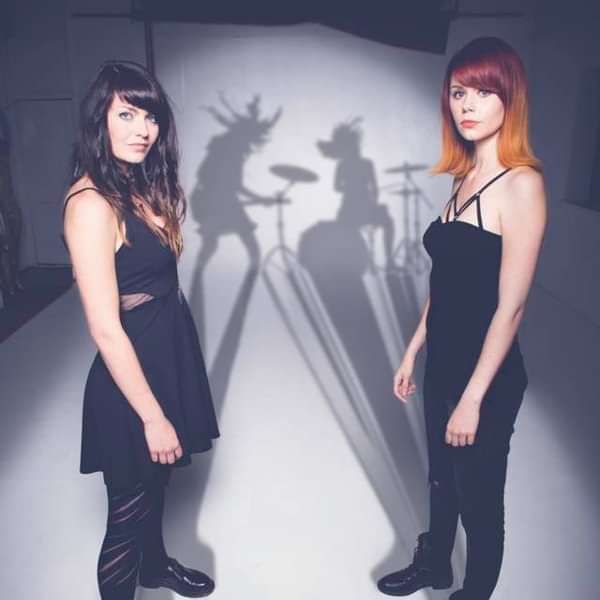 When Iggy Pop cites you amongst his favourite new bands on the back of your first single, you might start to feel the heat a little. But for East London upstarts False Heads, receiving the official nod from alternative music's most enduring tastemaker is just the start.
Spawned from the ashes of university bands and a plethora of line-up changes, False Heads were cemented when old school friends Luke Griffiths (vocals/guitar), Jake Elliott (bass) and Barney Nash (drums) came back together in mid 2015.
Describing their sound as 'crack rock punk', their insanely catchy lo-fi riffs alongside Griffiths' biting lyrics soon reached the ears of Libertine Gary Powell who didn't hesitate to sign them to his own label. First single 'Steal and Cheat' was released on 25 Hour Convenience Store in October of that year, to an audience ready to receive.
Acclaim from the likes of NME, Drowned in Sound, Clash and Q Magazine as well as radio support from the likes of BBC Radio 1, BBC 6 Music and Radio X saw the music industry sit up and listen. Backed with a series of energetic and unflinching live shows, the band caught the attention of punk rock cornerstone Danny Fields (The Ramones, Iggy Pop, The Stooges) who proclaimed he was "almost giving up, but now hope for the future of rock and roll is renewed – for me that's a very big deal."
A juggernaut of a set at the Camden Roundhouse's inaugural Punk Weekend cemented their place with the great and good of the alternative music scene as THE band to watch, hijacking ears on both both sides of the Atlantic with plaudits coming from the likes of New York Times and Metro.
Think Frank Black impersonating Ian Dury after stealing Elliott Smith's notebook; False Heads are the band that you didn't know that you were missing. Add in a backdrop of Kurt jamming with The Buzzcocks and you're just starting to get the picture of what the newest pretenders to the post-millennial punk rock throne have in store.
FALSE HEADS NEW DOUBLE 'A' SIDE 'WEIGH IN / ALL EYES' WILL BE RELEASED ON 25 HOUR CONVENIENCE STORE ON 7TH OCT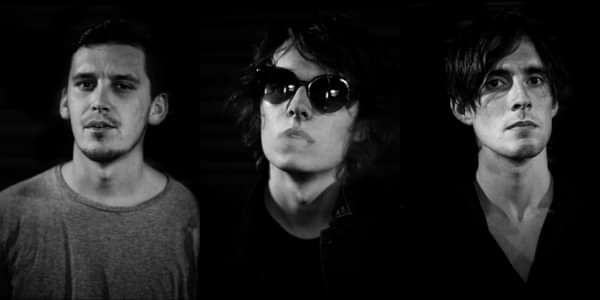 Punk-rock band from Guildford.