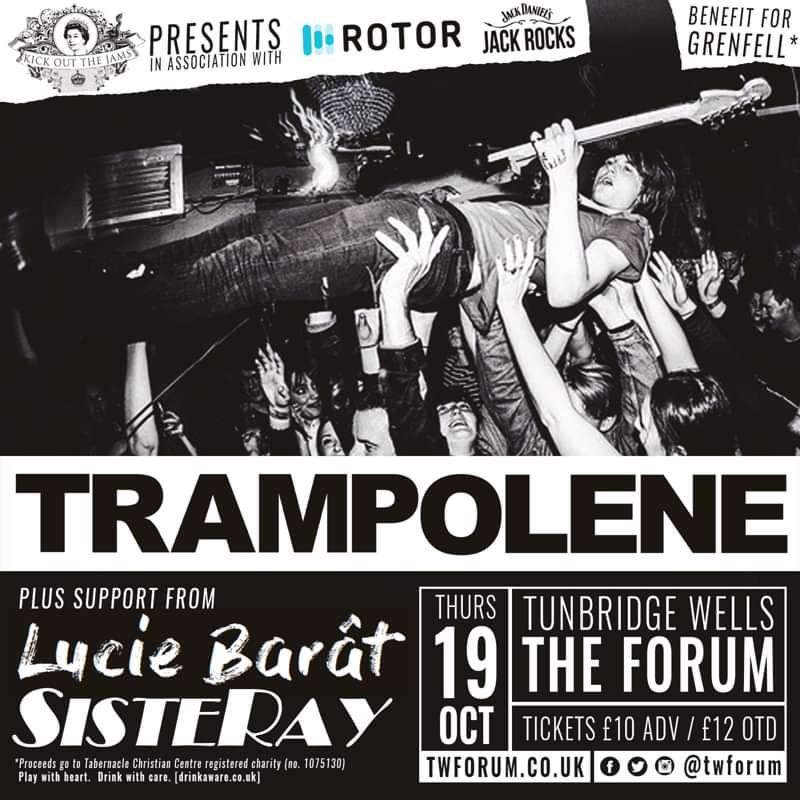 Kick Out The Jams (TW) presents:
Kick Out The Jams
TRAMPOLENE + Lucie Barât + SISTERAY
£10 ADV / £12 OTD
Entry Requirements: 16+
Line Up
"Exceptional poetry, funny and depressing at the same time and how often can you say that." Dr John Cooper Clarke
BBC 6 Music Tom Robinson Interview: http://www.bbc.co.uk/programmes/b07tck7b
Proudly crashing into the charts in the UK, France, Netherlands, Lithuania & Ukraine with their last single 'The Gangway.' TRAMPOLENE have toured continuously throughout 2015 and 2016 with stand out support slots with The Libertines, Buzzcocks, Peter Doherty, Reverend & The Makers, The Enemy, Pretty Vicious, Catfish & The Bottlemen and Carl Barat & The Jackals. Last summer TRAMPOLENE performed at Glastonbury, Leeds Festival, Y Not, Kendall Calling and Latitude Festivals along with a headline show at London's prestigious KOKO.
New TRAMPOLENE single, 'Divided Kingdom,' released November 25th and mixed by Cenzo Townshend (Jamie T / Everything Everything), picked up multiple plays on Radio One (Annie Mac and Huw Stephens shows) and was playlisted at Radio X. The video for 'Divided Kingdom' can be watched here:
Trampolene singer/guitarist Jack Jones is a member of Peter Doherty's touring band, The Puta Madres, playing lead guitar. The Puta Madres recently toured France, including two sell-out shows at the Bataclan in Paris. Jones also performed a solo support slot on the tour which arrived in the UK for two shows at London - O2 Academy (6th December) and Manchester - Albert Hall (7th December).
'Pocket Album Five' is available from iTunes:   https://itunes.apple.com/gb/album/pocket-album-five-divided/id1162746573
'Pocket Album Five' was recorded live at Ray Davies' Konk Studios in Muswell Hill and produced by Jack Jones & Josh Green. It includes 'Divided Kingdom,' a pissed off paean to post-Brexit Britain, 'Dreams So Rich Life So Poor' the ballad of TRAMPOLENE. The album will also include the charming poem 'Slug', and two new acoustic poignant songs 'Blue Balls & A Broken Heart' and 'She's A Nice Girl.'
TRAMPOLENE have released four mini albums through Mi7 Records: 'Alcohol Kiss' (April 2014), 'Imagine Something Yesterday' (March 2015), 'It's Not Rock & Roll' (October 2015) and 'The Gangway' (August 2016). All are available from iTunes: https://itunes.apple.com/gb/artist/trampolene/id723805219
TRAMPOLENE are: Jack Jones - vocals/guitar, Wayne Thomas - bass/vocals and Rob Steele - drums/ vocals.
Link to Photos and Artwork: https://www.dropbox.com/sh/p91zymr967hmcz8/AAD7iTv5g1e4pldS2mjExvS9a?dl=0
https://twitter.com/trampolene_band https://www.facebook.com/trampoleneofficial http://www.trampolene.co.uk/
PRESS
"Tips on the most exciting Newcomers at Glastonbury - skuzzy rock'n'roll with Trampolene." - NME
"Combustible rock'n'roll songs about actor Tom Hardy, kissing with alcohol breath and more." - MOJO
"Rocking good fun." – The Guardian
"Welsh poet Jack Jones - riffing on spiritual underdog qualities." - The Observer
"Jones has a kind of raw, unpolished talent that appears in a Liam Gallagher-esque sneer and swagger, backed by squealing guitar riffs." - The Independent
"Thrillingly visceral bounce & swagger." - Metro
"It'd be unfair to label Jack Jone the frontman of Swansea's Trampolene, a 'punk-poet.' His hungry, tooth and nail songs could be classified as punk, sure, and his lyrical spoken-owed pieces are undeniably poetry, but the connotations associated with such a label are not befitting of a voice as unique as Jones." - GigWise
"Trampolene led by Jack Jones, play his poems alongside hard-hitting rock'n'roll cuts." Clash
"Rock'n'roll will never die." - NME
"Swaggers along as if huge success is just a formality." – The Guardian
"Trampolene will be one to watch and indeed listen to in 2014" – Louder Than War
"Earthy rock n' roll met with Pete Doherty approved John Cooper Clarke-esque poetry about the pitfalls of rock n'roll and finding the extraordinary in the ordinary. Indie has a new poster boy." - GigWise
"Trampolene execute a riff with the killer precision and metallic urgency of Oasis in a knife-fight with AC/DC." - The Guardian
"The sort of band that people tend to say they don't make anymore, the sort that gets music fans of a certain genus and generation very misty-eyed indeed." - The Guardian
"The songs and self-belief that propelled bands like  manic Street Preachers and The Libertines to greatness." - Loaded
"Trampolene remind us that dreams are the fuel for revolution - if this in't rock 'n' roll, then please tell me what is." - GigSlutz
"If you're going to love a band , they need to be more than a good haircut and a handful of brilliant tunes - they need to have something to say. Fortunately Trampolene are the perfect package. As well as being a raucous explosion of rock n' roll done properly, they also have a fine poet in the form of frontman Jack Jones. With a John Cooper Clarke-esque delivery of his sideways glance into the uglier corners of modern society. Trampolene shows are punctuated by wistful and witty poems." - Gigwise
"Come listen to some poetry courtesy of Trampolene." - Noisey
"They are an exhilarating watch: to clean and pretty to be proper punk, too dirty and unpolished to be considered pop, Rousing stuff nonetheless." - Buzz Magazine
"Slips neatly alongside the likes of George The Poet and Kate Tempest" - The Guardian
"Sonic trio whose volleys of explosive riffs and combustible songs got those who are paid to get into a lather over such stuff, deservedly get into a lather over their stuff." - Wales Online
"A beautiful thing in the world of modern music" - GigSlutz
"Full of Innocent abandon." - Live4ever '
"Youngsters who know their way around a riff." - The Guardian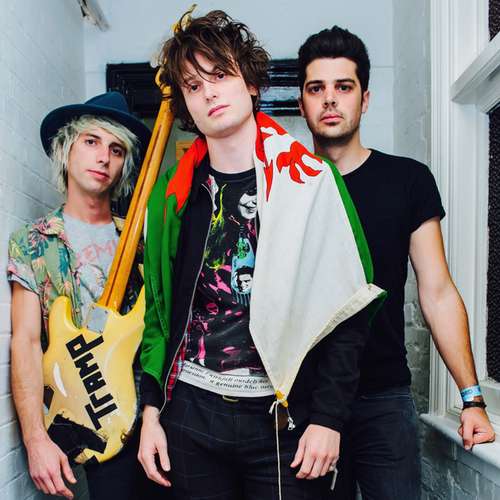 Facebook Lucie Barât is a punk, a poet, and a prodigal purveyor of ballsy synth spoken word. She also just happens to be the Libertines Frontman Carl Barât's sister. Lucie creates her political poetry from the influences of Patti Smith and Gil Scott Heron, and boasts a hostile, non-pretentious spin on synth. Her debut single "Be Uprising" dropped in late May to critical acclaim from press and fans alike, and even a Labour MP or two.
"A powerful and socially woke anthem." – The Girls At The Rock Show
"Lucie's drive, passion, stage presence and thought provoking lyrics fit perfectly alongside a contemporary, beat driven synth/pop sound." – The Hype Media
"Her lyrical delivery often strikes the perfect punk poetry balance between rocking vocalist and poetic wordsmith."– Get In To This
"Lucie's debut single oozes a raw indie-pop sound with a political gritty edge, it's an absolute gem." – Gigslutz
Spotify: http://bit.ly/BE-UPRISING YouTube: http://bit.ly/BeUprising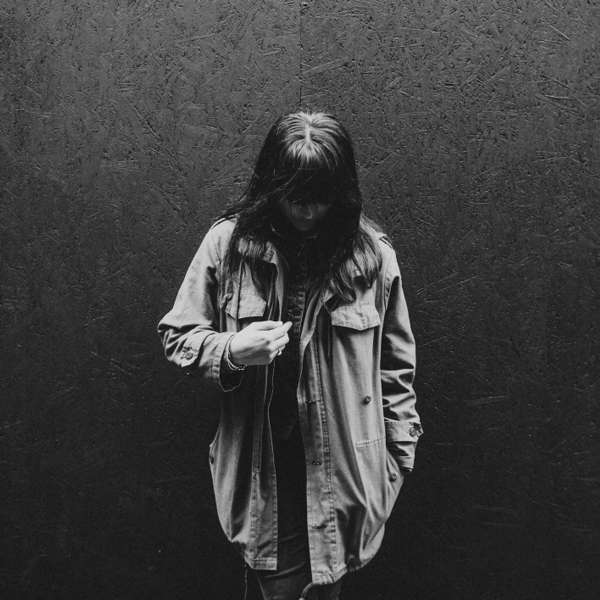 SISTERAY, songwriters Niall Rowan (vocals) and Dan Connolly (guitar) along with Marco Polo (drums) and Mick Hanrahan (bass guitar) have set out their intention to re-write the indie guitar rule book.
Sisteray came together out of their shared love for bands such as The Smiths, Velvet Underground, The Clash and The Replacements. This is proven in the upbeat melodies and lyrical observations of 21st century Britain, combined with high-octane live performances that have been key to making their live shows unmissable. They have recently built up their live audience through a series of #guerillagigs, using everything within their means to persuade promoters to let them have a first on slots at shows big and small, witnessed by Subculture describing: "The night began with Sisteray playing yet another spontaneous Camden show, their effortless guitar riffs and high energy proves that the boys are a force to be reckoned with".
This was followed by an insistence that they were allowed to curate their own headline show, where they chose the bands and DJs, it was a sell-out success and was followed but memorable shows across the UK, including at Isle of Wight and Leeds Festivals and others in the summer of 2016.
The bands belief and passion in their music, as well as their strong political views has been seldom seen since the days of The Clash; with Dan recently asked to appear on primetime BBC News, ITV and The Independent to voice his views on the recent Syria debate. ​ Word is beginning to spread in the likes of BBC Radio 1, Radio X, Fresh on the Net, Louder Than War, Artrocker, BBC 6 Music, Subculture, Gigslutz, Time Out and The Londonist.
"Gnarly... sounds like the golden age of 2000s UK indie" - Phil Taggart, BBC Radio 1
"...the band radiate the sense of Men On A Mission who engage both with their audience and the wider world beyond Camden" – Tom Robinson, BBC 6 Music
''BUTT-KICKIN' NEW PUNK'' - Chris Hawkins, BBC 6 Music
"Punk rockers causing a buzz in their native London, sold out shows aplenty, and with a Rory Attwell (The Vaccines/Palma Violets) produced EP in the can and due for release soon, expect that to swell" - Fred Perry Subculture