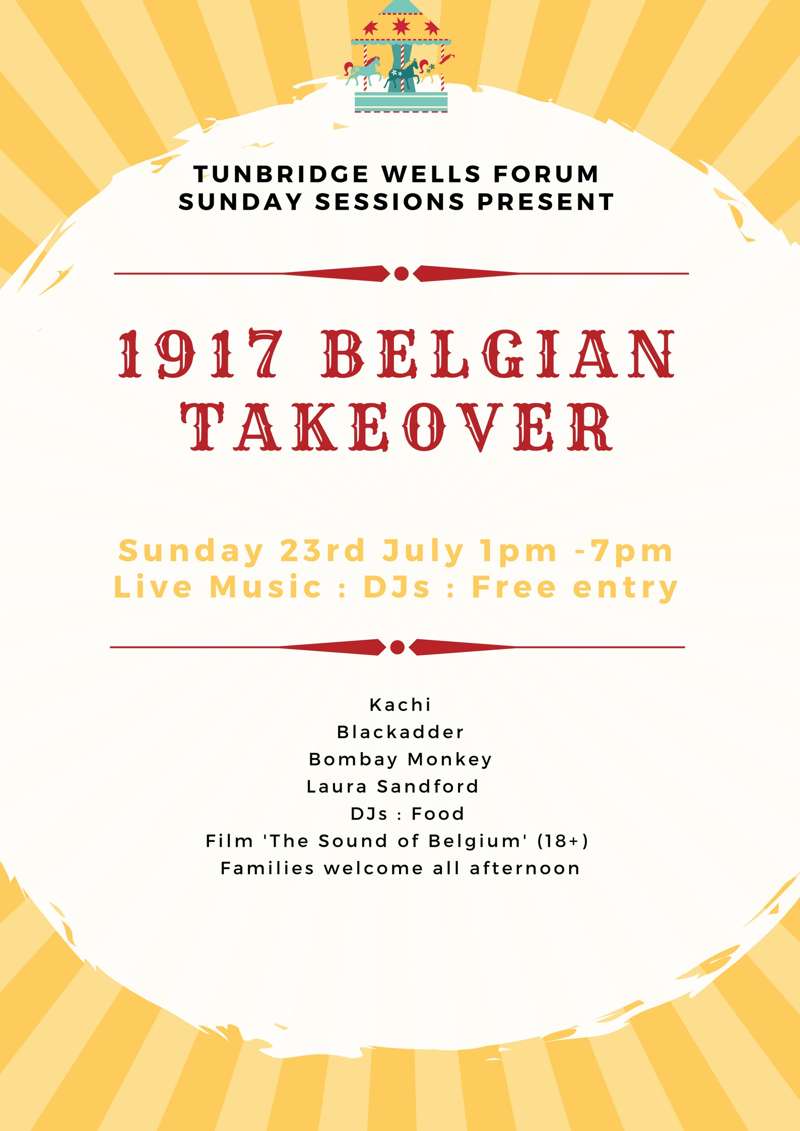 unFest presents:
Unfest Sunday Sessions
Blackadder + Bombay Monkey + Kachi + Laura Sandford
FREE
Entry Requirements: ALL AGES
Unfest Sunday Sessions 1-7pm every Sunday throughout the summer at The Forum.
23rd July - as part of RTW Belgian Week, we have an afternoon of live music, finishing the afternoon with the film 'The Sound of Belgium' (this is recommended 18+) Belgian themed food for sale.
This afternoon event is family friendly - free entry https://www.twbelgianweek2017.org.uk/
Line Up
"Long established Tunbridge Wells fun folkers"
Founder members Guy and Andy started building tracks on an AKAI MPC2000 at Guy's (poorly heated) flat in 2003. The end results... 'atmospheric, rhythmic, heady, melodic or just plain funny, and sometimes all five'. The fruits of their labour came to light in a series of 3 (limited edition) albums 'Vanish!'(2005), 'Time Travellers' (2006) and '130 Astronauts' (2008). Each of these featured cuts from the legendary Mr Thing (world class hip hop DJ and producer) and vocal samples from Rosco John (rapper from UK trip hop band Archive as well as solo performer).
Initially Bombay Monkey played out as an audio visual set with Andy triggering live samples on the MPC whilst Guy added visuals from a laptop. In this guise they supported Hexstatic (Cargo), appeared at Digital City (Elephant and Castle and Islington) as well as appearing at small festivals around the UK. They then decided to up the ante and started writing heavier, faster tracks - dance tracks with vocals. Andy graduated from the MPC to a microphone and they started singing on the new recordings - mainly because they didn't know anyone else who would do it.
Dave Tonkinsmith joined the band in 2012 and recorded vocals on several tracks on the band's 4th album 'Dark Flow'. Now both Dave and Andy both sing on Bombay Monkey tracks - one takes lead and the other backs (according to whose voice works best with the music).
In April 2013 they got hold of 3 pairs of ijaaks (innuit eyewear and possibly the pre-cursor to contemporary sunglasses) and played their first show with the new line up. Since then Bombay Monkey tracks have been played BBC Introducing (The South and 6 Music). Bombay Monkey signed to BBE music in February 2014. Joining Bombay Monkey at this show will be local dubstep maestro CODE: MARLA providing live bass and synths.
Bombay Monkey will be test driving some brand new tracks from their upcoming release "Chef's Orders".