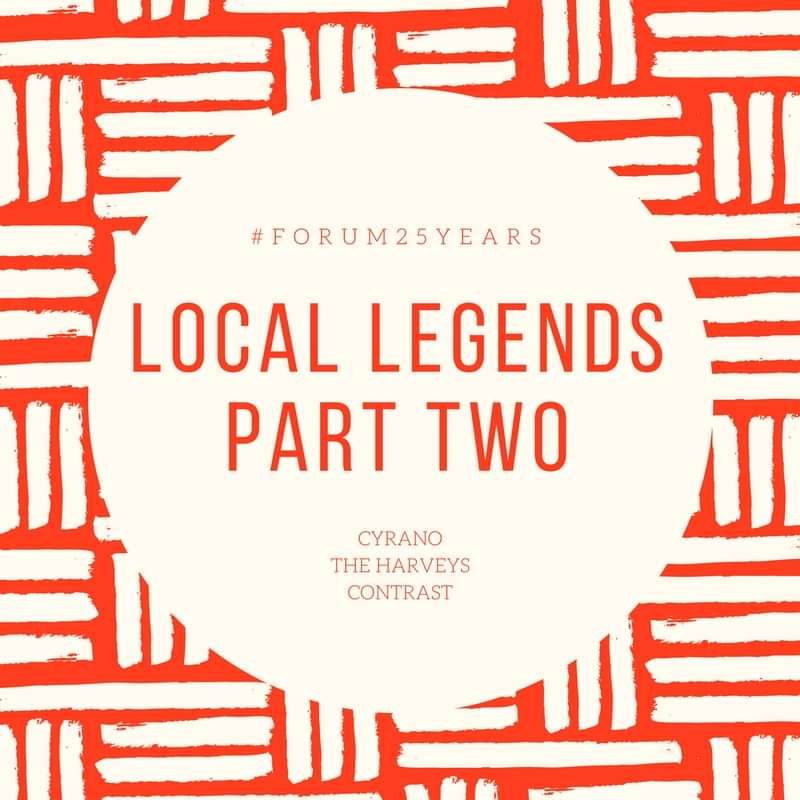 The Forum presents:
Local Legends Part Two
Cyrano + The Harveys + Contrast
£7 ADV
Entry Requirements: 16+
Buy Tickets
Line Up
REVIEW FROM BLAM MAGAZINE: 'Enter CYRANO, and despite the respectably sized crowd, the quality gap compared to certain Stable acts that draw bigger ones, yawns open like a bottomless chasm.
With minimal fuss, Cyrano just get on with it as 'Gathering the Dust" takes over and makes them sound heartbreakingly huge. Imagine Thirteen Senses writing with Embrace while Clearlake look on, crying into their beer. When Joe Ackerley's vocals aren't doing the high wire act, he roars with a fractured anguished dignity, somewhere between Thom Yorke and Chris Martin, but there's no girly piano in Cyrano's set up. Their mood develops from chiming guitars that in the space of a few drawn out chords can make you drop to your knees and be thankful that the world is so goddamn beautiful; soaring, swooping melodies, teetering on the brink between joyful abandonment and despair, pour from their amps, crash and ebb around your brain and trickle down your spine like cold sweat.
The newer material, such as "Signs" and "Discontinued" echo the Coldplay and Pearl Jam comparisons made frequently with this band, but intrinsically, they only share the same sense of power and ethereal sensuality, as the ideas are theirs alone. There's absolutely no filler with this band. Each song is a perfectly crafted, impossibly sexy work of art in itself, honed and perfected over time. Their tunes build, grow, expand and explore, going exactly where you want them to and leaving you breathless with anticipation for the next one. "Surely", you say to yourself, "It can't get much better than this." Then it does.
Quite simply, Cyrano are just stunning.'